A well-known and respected York headteacher is set to retire after almost three decades on the job.
Paul Edwards, headteacher at Scarcroft Primary School, plans to step down in December 2023 after almost 30 years working in education.
Mr Edwards said "I have always been passionate about making sure that every child has access to an excellent education and has the opportunity to flourish academically and as a person. I will leave Scarcroft with many fond memories!"
Mr Edwards graduated from Westhill College of HE in Birmingham in 1995, before taking up a teaching post at Chapel Fields Primary in Solihull. He then joined Marston Green Junior School in 1998, where he eventually became deputy head in 2005. He then moved to Westfield Primary Community School in York in 2008 as deputy head, before taking on his first headship at St Martin's CE Primary School in the East Riding of Yorkshire in 2011. He joined Scarcroft Primary as Headteacher in 2018.
Mr Edwards added "It has been an absolute pleasure to work with my colleagues at Scarcroft, the team across South Bank Multi Academy Trust (SBMAT), the Scarcroft community and of course, the numerous children I have taught over the years. It has been a privilege to lead such a happy, successful school and to see it grow and succeed as part of SBMAT. It has been fascinating to see the development of the MAT over the last couple of years and it is creating some great opportunities in which to learn and work. I was a very proud Headteacher when some of our pupils performed so incredibly well at SBMAT's recent ArtsFest and SportFest.
"Whilst I am sad to leave, after a period of ill health over the last few months, it is time for me to go on to the next stage of my life. I will be keeping my links with SBMAT very much alive as I take up a governor role at Millthorpe, one of Scarcroft's fellow Trust schools, in January 2024, but I have no other fixed plans as yet. I'm hoping to spend lots of quality time with my wife and family, and finally get around to reading all those books I've accumulated over the years but not had time to read! I look forward to watching Scarcroft Primary continue to flourish with the support and guidance of the Trust."
Mark Hassack, Chief Executive Officer of SBMAT said "Paul will be very much missed when he leaves us at the end of the year. He has provided kind and thoughtful leadership during his time at Scarcroft and has been a key member of our Trust team. He never fails to put children first, always ensuring his team goes the extra mile to provide the educational experience all children deserve. He will leave us with our heartfelt thanks and best wishes for a long and healthy retirement and I am delighted that Paul will be continuing his involvement with the Trust in the new year as a governor at Millthorpe School."
Following Mr Edwards' departure later this year, Mr James McGann, who is the current headteacher at Woodthorpe Primary School, will become Executive Head of both Woodthorpe and Scarcroft Primary Schools. He will provide strategic leadership and oversight of both schools and ensure their continued success.
Mrs Jennifer Mitchell will take up the post of Head of School at Scarcroft Primary. Mrs Mitchell is currently Director of Personal Development for SBMAT and has extensive previous experience of senior leadership in primary schools both in York and further afield. She will work closely with Mr McGann and will lead the school on a daily basis. Mr Matt Oxley will continue as Deputy Headteacher.
Mrs Charlotte Grason-Taylor will move from her current position as Deputy Head to Head of School for Woodthorpe Primary School.
A joint Local Governing Board (LGB) will be established as a sub-committee of the Trust Board with immediate effect to provide challenge, support and monitoring of both Scarcroft Primary School and Woodthorpe Primary School.
Last autumn, Ofsted inspectors declared Scarcroft Primary, which is part of South Bank Multi Academy Trust (SBMAT) as a "Good" school where pupils "are safe and happy."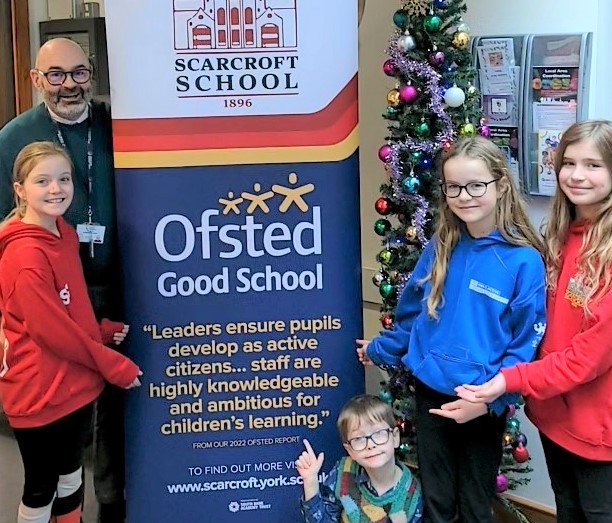 Mr Edwards pictured with Scarcroft Primary pupils after their Ofsted inspection last year.
19 October 2023